MSI just released their MSI Bravo 15 with the new generation of AMD Ryzen Renoir CPUs. The Bravo is a 15.6-inch FHD with an Ryzen 7 4800H gaming notebook with a starting price of $999.
There are two different configurations of the Bravo 15 available, one with a RGB backlight keyboard, a 144 Hz display and one basic variant with a non RGB keyboard and a 120 Hz display.
This is an ongoing review, I am going to add more benchmark results and other information later on. Including some benchmarks with 64 GB of dual-channel memory.
Hardware overview
This test covers the basic version of the Bravo 15 with the 120 Hz FHD display.
AMD Ryzen 7 4800 H
8 GB DDR-4 3200 MHz RAM (Single-Channel)
512 GB NVME SSD
AMD Radeon RX 5500M
Full HD 120 Hz IPS Display
Intel AX200 WIFI Controller
Case - A lot of plastic
The dark case is mostly made out of "metal like" looking plastic. Compared to the MSI Alpha series from last year at a first glance it looks more professional and does not scream "gaming notebook" that much. The overall stability is mostly mediocre, the screen wobbles when you try to bend it, but the hinges are firm and uniform up to an angle of around 140 percent. The base is also slightly flexing when you put pressure on it.
The bezels on the top and bottom are rather large, compared to higher priced gaming machines. The side ones are relatively thin, but still larger than on many other notebooks.
Connectivity
Except for one HDMI port and the power input all ports are located on the right side. The MSI Bravo 15 comes with two USB-C (3.2 Gen 1) ports and two regular USB 3.2 (Gen-1) ports. Additionally there is an integrated ethernet port (RJ-45) and a kensington lock.
Omitted are the SD Card reader and an additional display port out. This is especially annoying, as the HDMI port only supports 4k at 30Hz. Some more display port options would have been a nice addition by MSI.
Keyboard
Using the keyboard the first time you are immediately going to notice the rubber dome feeling to it. It's no mechanical keyboard, but at this price point this is probably not to be expected. Still, for a rubber dome keyboard it's doing really fine. There is a clear pressure point, it's accurate and I kind of enjoyed typing on it.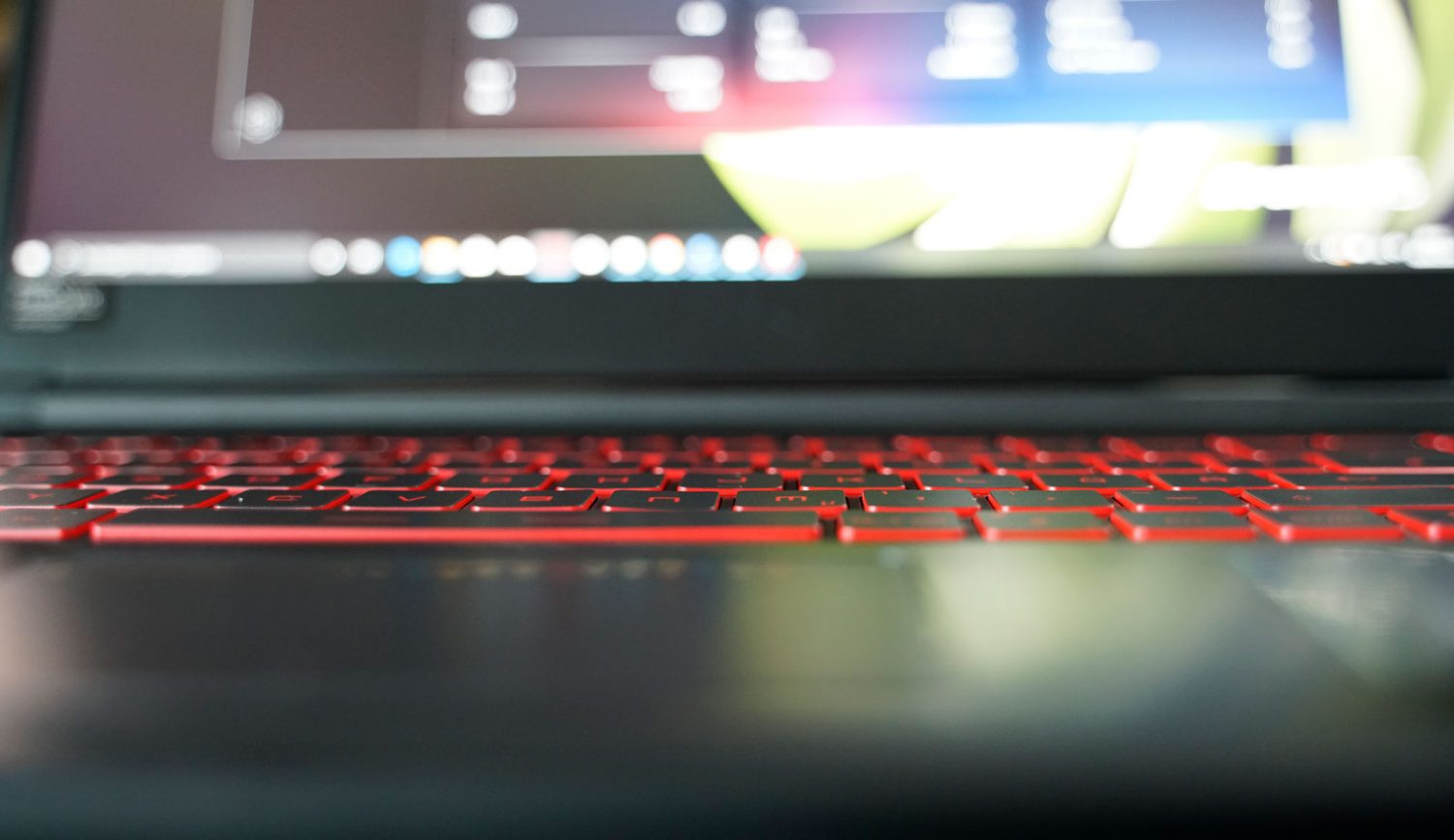 The keyboard layout is more or less normal, even though I would prefer a normal sized return key instead of the smaller one on the Bravo 15. For the german keyboard layout that I am using, the lower and greater than key is not positioned like on a default iso layout, but next to the right control and fn key. For programmers this could be a no go.
The base model (Bravo 15 A4DDR) I am testing has no RGB backlight, but only an, in my opinion, really ugly red backlight which I immediately turned off. If you need a keyboard backlight it's probably better to look into the RGB version (Bravo 15 A4DCR).
Touchpad
The touchpad is surprisingly doing fine. It has no physical buttons and is quite small for a device that huge, but it's responsive and accurate. You can't compare it with a TouchPad on a MacBook of course, but with this kind of machine you probably are going to use a real mouse anyways most times. And for the few exceptions the touchpad on the MSI Bravo 15 is good enough.
Display
I got the base version of the MSI Bravo 15 with the 120 Hz Full HD (1920x1080) IPS display from AU Optronics. Given the reviews of the previous Alpha 15 generation, I suspected it would be a bad display. But to my pleasant surprise it's actually great. I haven't done any measurements yet, but the contrast and black levels are fine and from a subjective view it can keep up with more expensive IPS displays like in the Razer Blade 15 (200Hz) which I tested recently. There is no screen bleeding or ghosting and the colors look crisp and clear.
On the downside, the brightness could be better, at max brightness it's probably around 250-300 nits, so you probably don't want to use it outside. It has no HDR and even though it's matte, it reflects lights in the background slightly. Probably MSI used a matte foil to achieve the anti-glare effect.
CPU Performance
The MSI Bravo 15 is one of the few machines available with the AMD Ryzen R7 4800H. An 8 Core (16 Threads) processor of the new AMD Renoir generation manufactured in 7 nm by TSMC. In most multi core benchmarks it clearly beats the much pricier 14 nm Intel Core i9 9980HK by a margin of 20-30%. If you are looking into raw CPU performance it's probably one of the best choices around.
In comparison with the 4800HS or Ryzen 9 4900HS it is designed for a higher thermal design power (TDP) of 45 Watts compared to the 35 Watts the HS series is using. In benchmarks the 4800H and 4900HS are mostly on par, though single core performance is, given the higher turbo boost, slightly (~3-5%) better on the Ryzen 9 4900HS.
The 4800H has a base clock of 2.9 GHz and a Turbo Boost of 4.2 GHz, it supports DDR4 up to 3200 MHz or LPDDR4X up to 4266 MHz. Even though the Bravo 15 comes with a dedicated Radeon RX 5500M with 4GB GDDR6 memory, the CPU comes with an integrated GPU (Radeon Vega 7) for power savings during mobile use.
The MSI Bravo 15 base model comes with a single 8GB DDR-4 (3200MHz) memory module, keep this in mind when looking at the benchmark results. Dual-channel mode should improve the performance significantly, especially with the integrated GPU. The AMD 4800H is, unlike others for example ThreadRipper CPUs, a monolithic design. It's still using an infinity fabric, connecting to the iGPU and other parts of the processor.
Benchmark results are slightly below other Ryzen 7 4800H benchmarks (~3-5%), maybe because of the single channel memory or the temperature limit of 80° Celsius.
Cinebench R20
Multi-Core: 4080 Single-Core 474
Multi-Core Cinbench R20 runs in a loop: 4080 4087 4043 4048 4052
During the Cinebench loop, the CPU Temperature went up to a maximum of 80° Celsius and remained there.
Cinebench R15
Multi-Core: 1784
Geekbench 5.1.1
Single-Core 1132 Multi-Core 5830
Mozilla Kraken
829 (ms) on Google Chrome 83.0.4103.61
System Noise
Noise levels for a gaming laptop are okay for the MSI Bravo 15. With no or sparse CPU load the coolers remain silent. You are not going to notice them during Office use or while surfing in the net.
Once you put some heavy load on it (Like Cinebench) the coolers kick in after some seconds and get noticeable in a deep and steady tone.
Shortly afterwards they quickly drop down to silent mode again.
Temperature
MSI seems to have limited the Ryzen 7 4800HS to 80° Celsius, which is also reached during high load or benchmarking. At idle the CPU sticks to around 40 to 50° Celsius. The keyboard and top surface remain cool even during extended load, only the bottom becomes slightly warmer.
Radeon RX 5500M Performance
By going full AMD with a dedicated AMD Radeon GPU in the Bravo 15, MSI went into a different direction than most competitors. Which mostly combine the Renoir CPU with Nvidia graphic cards. For myself, as a Linux user, this is actually a great decision. The open source AMD driver (amdgpu) is way superior compared to the open source NVIDIA (nouveau) one.
But for gamers, this might be a not as good decision by MSI. Performance-wise the Navi 14 chip is located somewhere between an Nvidia 1660 Ti Max-Q and the regular 1660 TI. Which means it's suitable for Full HD (1920 x 1080) gaming on medium to high settings.
Given that the GPU was even slightly slower on the previous generation of the Bravo 15 (Alpha 15), you should maybe wait for some GPU benchmarks if you are really into gaming.
Storage device
The Bravo comes with an 512 GB NVME SSD from Toshiba (KGB30ZMV512G), which is on the low end of NVME hard disks. It offers an average read speed of 1300 MB/s and an average write speed of 750-800 MB/s.
Ethernet and WiFi
The MSI Bravo 15 comes with an integrated 1000 Mbit/s ethernet port (RJ-45 - RealTek RTL8168/8111) and an Intel WiFi 6 AX200 card. During my tests both worked stable, with no issues showing up.
Battery
The integrated 3-Cell 51 Wh battery is relatively small for a device of this size and with it MSI clearly made a cut to not encroach on higher priced territory. Even though the portability with 1.9 kg is good, you won't make it over a whole workday without the power brick.
I haven't done any battery tests yet, except using it like an hour of the cord. But with light usage, like surfing the web or doing some Office work, the battery is probably going to last 4 to 6 hours on average.
The 180 Watt power brick is made by Chicony, a well known manufacturer of "cheaper" power bricks. Here the low price of the Bravo 15 probably forced some cuts.
Pre-Installed Software
The shipped Windows 10 Home (64-bit) is mostly clean. The only additions are a test version of Norton Internet Security, the MSI Dragon Center to control the performance and a test version of Microsoft Office. Additionally there are links to install the PhotoDirector 10 and PowerDirector 17 from MSI.
Accessories
The only other thing included in the box, next to the notebook itself and the Chicony power brick, is a generic MSI Notebook Quickstart guide.
Verdict - Surprisingly great for the given price
To be honest as I ordered the Bravo 15 I didn't expect much, besides the Ryzen 4800 H CPU performance. But given the price tag of around 1200 € (~ $1150) MSI delivered a great notebook, not failing in any area but connectivity. One 4k 30Hz HDMI output is not enough.
You get superior CPU performance over way higher priced notebooks with Intel Core i9 chips. As a desktop replacement with an external keyboard and mouse it probably is one of the best options at the moment, even though the integrated peripherals are good enough when you are on the road.
For gamers the AMD RX 5500M GPU might be too underpowered compared to the offerings by Asus or HP with NVIDIA GPUs. On the other hand Linux users are going to love this option by MSI.
The good
Great CPU performance
Top display
Easy Maintenance
1.9 kg only
Low Price
The bad
Flexing plastic case
Mediocre 51 Wh battery
Mediocre peripherals
No Thunderbolt 3
No Displayport