The ThinkPad P51 is Lenovo's top workstation model with 15 inch. You get the strongest mobile Intel Kaby-Lake-CPUs (up to Intel Xeon CPUs) and an Nvidia Quadro up to an M2200 in a military tested case.
While it's quite difficult to get in northern america, it has been available in Europe since the end of April 2017. I got mine some weeks ago and had a lot of time to play around and test the machine inside out. This review is mostly focused on Windows 10, a review with (Arch) Linux is going to follow in the next weeks. As a general hint, this machine runs great with Linux and a recent Kernel version (>= 4.10).
This review is still work in progress. Going to add new observations, benchmark results, images from time to time, as this is my main working machine now. If you have any questions, just drop me a comment.
// Update Fri, May 26 2017: Added a gallery with multiple images to the review (scroll to down to the end)
The model (20HH0018GE) I tested has the following hardware:
Lenovo ThinkPad p51 Specs
Processor: Intel Core i7 7820HQ @ 2.90GHz
Memory: 32 GB Crucial CL14 DDR4-2400 (self replaced, 2x16GB Dual-channel)
Graphics: Intel HD Graphics 630 & Nvidia Quadro M2200
Display: 15 inch FULL-HD Display
Storage: 1 TB Samsung 960 m.2 NVME SSD + 1 TB Samsung 850 Evo S-ATA (self replaced)
Bios: 1.0.5 (2/13/2017)
WWAN / LTE Modem: Sierra EM7455 (self replaced)
Weight: 2.5 kg (5.5 pound)
Power supply: 170 W
Price: ~2590 Euro (without self replaced parts)
Performance
Lenovo ThinkPad P51 GeekBench 3 ResultsSubjective performance is great, even with multiple programs open and two external monitors (UHD + WQHD) attached the system feels snappy and responsive. I owned the P70 for some months (with an Quadro M3000 card) and the P51 feels even more polished.
CPU Benchmark results
Cinebench R15 Multi: 746 – 770
Cinebench R15 Single: 150-165
Geekbench 3 (32-bit) Single: 3726
Geekbench 3 (64-bit) Multi: 14147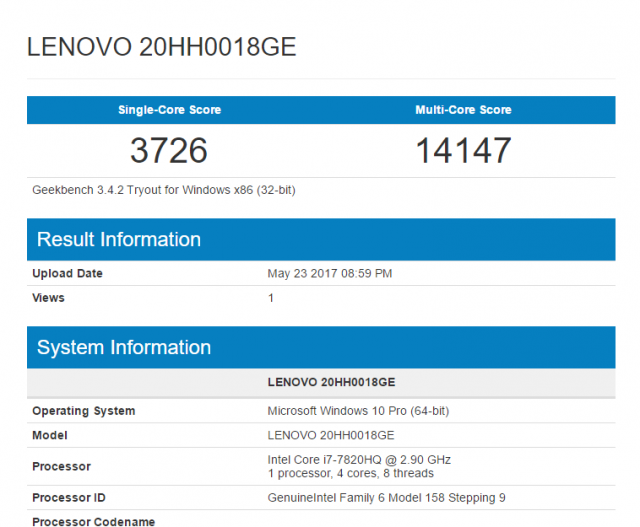 GPU
During normal usage, the low energy Intel HD 630 is active and the Nvidia card is deactivated. For non-graphical day-to-day tasks it performs well, without any noticeably UI lag or performance issues. With UHD this could be a bit different. On my Lenovo P70 (Intel HD 530) with Ultra-HD display i noticed quite some lag (in browser etc.), for everyone preferring a totally smooth experience the Full-HD variant is the better choice.
The Nvidia Quadro M2200 is still based on the 28 nm Maxwell architecture, based on the same chip as the GTX 965M. The performance is roughly on pair with the old Quardro M3000M or an current GTX 1050. It's drivers are optimized for stability and professional software and not on gaming. If this justifies the huge surcharge you have to decide yourself. In Cinebench R15 the card is achieving around 106-110 fps.
Once you connect external displays, the Nvidia card is used (All external ports are powered by it), which is reducing the battery time a bit.

GPU Benchmark results
LuxMark v2.0 (GPUs only, Room scene) -> Samples per second: 1281
LuxMark v2.0 (GPUs only, Sala scene) -> Samples per second: 2058
Temperatures & Emissions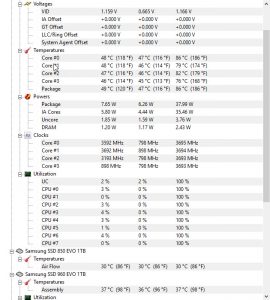 HWMonitor after running Cinebench R15 multiple times
During day-to-day use the CPU temperature idles around 40-50 degrees Celsius with quiet fans. Occasionally the fans jump in for less than a second with some sort of pumping sound, which can be quite irritating the first times.
Once the processor hits 60-70 degrees Celsius the fans jump in on a mid level. When you run a resource intensive tasks for longer than some minutes, they jump in into the highest mode and keep the processor below 80° degrees Celsius. The CPU remains at a constant clock speed of 3.5 – 3.6 GHz during that.
The GPU stays even cooler, even with high utilization and Benchmarking it rarely hits more than 60-70 degrees Celsius. Most times it stays even way below that.
The m2 and SATA SSDs are quite shielded from the base unit temperature. In idle and during day-to-day use they remain cool at around 30-40° degrees Celsius.
Storage
Samsung / Lenovo P51 256 GB NVME SSDThe basic unit comes with an 256 GB m.2 NVME SSD from Samsung (MZ-VLW2560). The Lenovo P51 can take up to 3 hard-drives (2 m.2 SSDs + SATA SSD). For adding another m.2 drive you need the an extra Lenovo m.2 ssd tray accessory. The same goes for adding a SATA SSD, where you need a Lenovo storage kit also for around 20 Euro.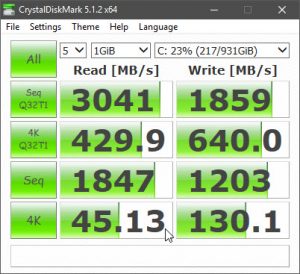 Samsung 960 Evo 1TB SSD CrystalDiskInfo Benchmark
Display
Lenovo offers the ThinkPad P51 with different display options (Full-HD (250 nits), Full-HD Touch (230 nits), 4k Screen (300 nits)). Lenovo is sadly using multiple suppliers for displays, so you can't really compare one model against another. The specs on their homepage can be seen as minimal values all the different displays fulfill.
I got the Full-HD model mostly because of scaling issues and energy savings. At work i am using the Lenovo Pro Dock and only external monitors (more on the dock later), so the display is mostly important when i am traveling. Personally, i don't really see that much of a difference on a 15 inch between Full-Hd and Ultra-HD / 4k, so i prefer going with a far longer lasting battery.
With the display in my P51, it looks like i won the display lottery. It has great colors, great black level and you can use it outside without any issues. It performs way better than i expected, going to add some display metrics in the next weeks. The Lenovo P51 comes also with an integrated color calibrator from Pantone, which i personally feel is more a gimmick than a real calibration.
Keyboard & Touchpad
The keyboard is Lenovo characteristic a great one. In comparison to most other Notebook keyboards it's really a joy to type on it. As it has a num-pad, the keyboard is off-center to the screen, some people really complain about that. Personally for me this has never been an issue, i was already used to it from my earlier P70, so it just took some minutes and it felt totally normal.
The Synaptics Touchpad is decent, it got a better and more fluid surface than the one in the Lenovo ThinkPad P70. Of course it can not keep up with a MacBook touchpad, but for some generic use during travel on plane or train it's doing fine. There are in total 6 different buttons, 3 on the top and 3 below the Touchpad. Personally i prefer using the TrackPoint, which is performing Lenovo typically, really well.
Battery
The Lenovo P51 comes with an switchable 6 cell battery with 90 Wh. During day-to-day use i reach around 7-10 hours (non GPU intensive tasks without the Nvidia card jumping in). When you would only use it for browsing you could reach over 10 hours.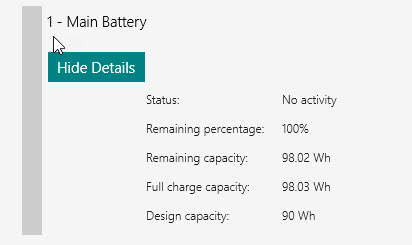 Security
The Lenovo ThinkPad P51 is equipped with a Fingerprint Reader, which is supported by Windows Hello. For the Login you just have to touch it once, like you are used from modern devices. On Linux i was not able to get it working. The ThinkPad comes with various more or less proprietary security features, like TPM 2.0, Anti-Theft (CompuTrace) etc. It also has a Kensington lock slot on the right.
Connectivity
The Lenovo Thinkpad P51 has a decent port selection. On the left you only find the ExpressCard connector, the SD-Card reader and the Smart-Card slot. On the right you find the Mini DP 1.2, the headphone jack, 2 normal USB 3.0 ports and the Kensington lock slot. On the back, you find two extra USB 3 ports, one with always power functionality and the. Additionally you find the Intel Ethernet, an Thunderbolt 3 / USB-C port and an HDMI port there. The Sim-Card slot is found near the battery. On the bottom there is an additional Lenovo docking port connector.
The P51 comes with an Intel Wireless-AC 8265 and an Intel I219-LM ethernet adapter. The ThinkPad P51 is WWAN ready, in my model i added Sierra EM7455 card (Qualcomm Snapdragon X7 LTE-A modem), which is working well. The needed cables are already prepared in the slot below the keyboard and you just have to attach them.
Maintenance
The previous year Lenovo ThinkPad P50 got some bad reviews for maintenance (in comparison to the ThinkPad P70). Personally i had no issues with the P51 (same case as the P50) with exchanging certain parts, actually it wasn't that much a difference to the P70. The bottom cover is hold by multiple screws (which stay in). The first time you remove it you need to use some pressure, because the plastic clips are quite solid. After that you can get access to the two ram slots and the 2x m.2 SSD Slots and the SATA one. To add a new SATA hdd or another m.2 one you need the matching storage kits from Lenovo, see also storage.
To access the other RAM slots or the WWAN / WIFI slots, you have to remove the keyboard, which is done by removing 3 screws in the back and then moving the keyboard to up.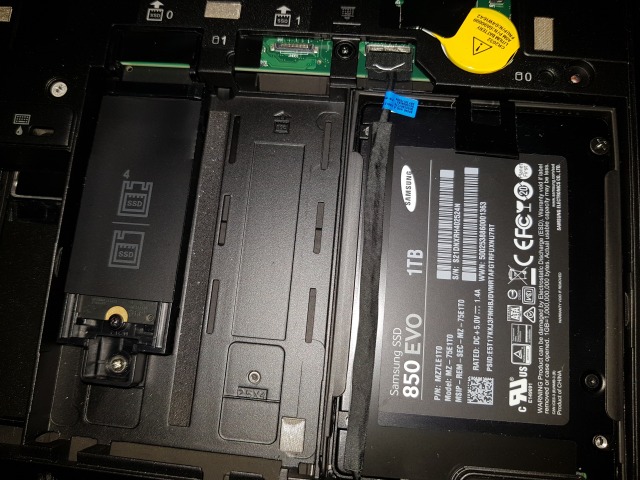 Docking Station
Most of the day my ThinkPad P51 is running in docking mode with the Lenovo ThinkPad Workstation Pro Dock (270 Euro). It offers 6x USB 3.0 ports, Gigabit Ethernet, 2x DisplayPort 1.2, 1 DVI-D, 1x HDMI 1.4 and one VGA. It also comes with a security lock with 2 keys, which is quite handy and way faster than attaching a Kensington Lock on the device itself (you attach that on the dock). The dock brings a huge and heavy 230 W power adapter itself. So you can keep the 170 W one for traveling or every day use.
Docking is working flawless on Windows 10, there are some issues in Linux (you have to restart the display server or boot up with it). Attached to the dock (both DisplayPort) i run one Ultra-HD Dell 43 inch display and a Dell Full-HD display. Both run in full resolution with 60 Hz this way. If you want to go with two Ultra-HD displays you need to attach one to the notebook itself. Beware that the manual on which combinations are working is quite confusing.
Verdict
Buying a workstation computer is also in 2017 not easy. In the last years i used multiple different high-end machines (Like the Lenovo P70, Dell XPS 9550, Dell Precision 5510, MacBook Pro 15′ 2015 + 2016 etc.) and all have their ups and downsides. With the ThinkPad P51, Lenovo got a lot of things right. For an 15 inch machine it's heavy (0.8 kg / 1.6 lb more than the MacBook 2016) and on the edge, what i personally would accept for daily transport today. But compared to other devices (even though you can argue they are no workstations), like the MacBook Pro 2016 or the HP ZBook Studio, the P51 takes far less compromises.
The good
Great performance
Quiet on day-to-day usage
Robust and milspec case
Great Full-HD display (on this model)
Great battery runtime
Three-year next day warranty
The bad
Quiet heavy
Mediocre Touchpad
Display lottery (you can't predict which model you get)