With the HP EliteBook 845 G7, AMD Ryzen finally reached the high end business notebook market. With a weight of only 1.33 kg and the power of an Ryzen 4750U it outclasses the Intel ultrabook competition.
Please note: This is an ongoing review and I am going to extend it with further information and benchmarks in the future (11/10/2020). Feel free to drop a comment if you want to see something specific.
Ready at last, AMD Ryzen notebooks are more common available now. More and more vendors finally start offering AMD based products, with HP going full in, offering a huge range of models powered by AMD. The EliteBook 845 G7 is on the upper class of AMD products, offering significant performance improvements over the Intel Ultrabook models without the compromises a lot of other AMD based notebooks make.
Most other Ryzen notebooks we saw this year, were targeted at consumers (price and feature wise) in the middle and entry levels. With a price tag of around 2000 € the EliteBook isn't counting to these any more, but brings tons of "pro" features to the table.
Hardware Overview
This review covers a fully upgraded version HP EliteBook 845 G7 wit the HP Sure View display and the Ryzen 4750U.
CPU: AMD Ryzen 7 4750U - Up to 4.1 GHz
Memory: 64 GB HyperX Impact DDR4-3200 CL20 64GB*
Storage: 2TB Adata 2 TB XPG Gammix*
GPU: Radeon RX Vega 7 (Integrated)
Display: 14" Full HD Display with 1000 Nits and HP Sure View
WLAN: Intel AX 200
LTE modem: Intel Corporation XMM7360 (Fibocom L850-GL)
Connectivity: 2x USB 3.1, 2 x USB-C with Displayport-Alt-Mode (1.4!), 1 x HDMI 2.0, Combo Audio
Other: Smartcardreader
Weight: 1.33 kg (according to spec sheet)
Case
When you unpack the EliteBook for the first time you can directly see and feel the difference to most other Ryzen based notebooks. The aluminium chassis is offering a premium and robust feeling, making a very durable and valuable impression. The hinge is rigid, but still allows for one hand opening, while preventing any wobble. The palm rest with the touchpad is slightly flexing, when you apply pressure to it.
One slight downside of the chassis is that the bottom cover is lower than chassis. This causes a sharp edge on the front which can become annoying when you use the notebook on your lap or carry it around.
With around 1.4 kg it's on the upper end of 14" devices, but still light enough to carry it every day. Compared to Dell XPS 15 the footprint is noticeably smaller.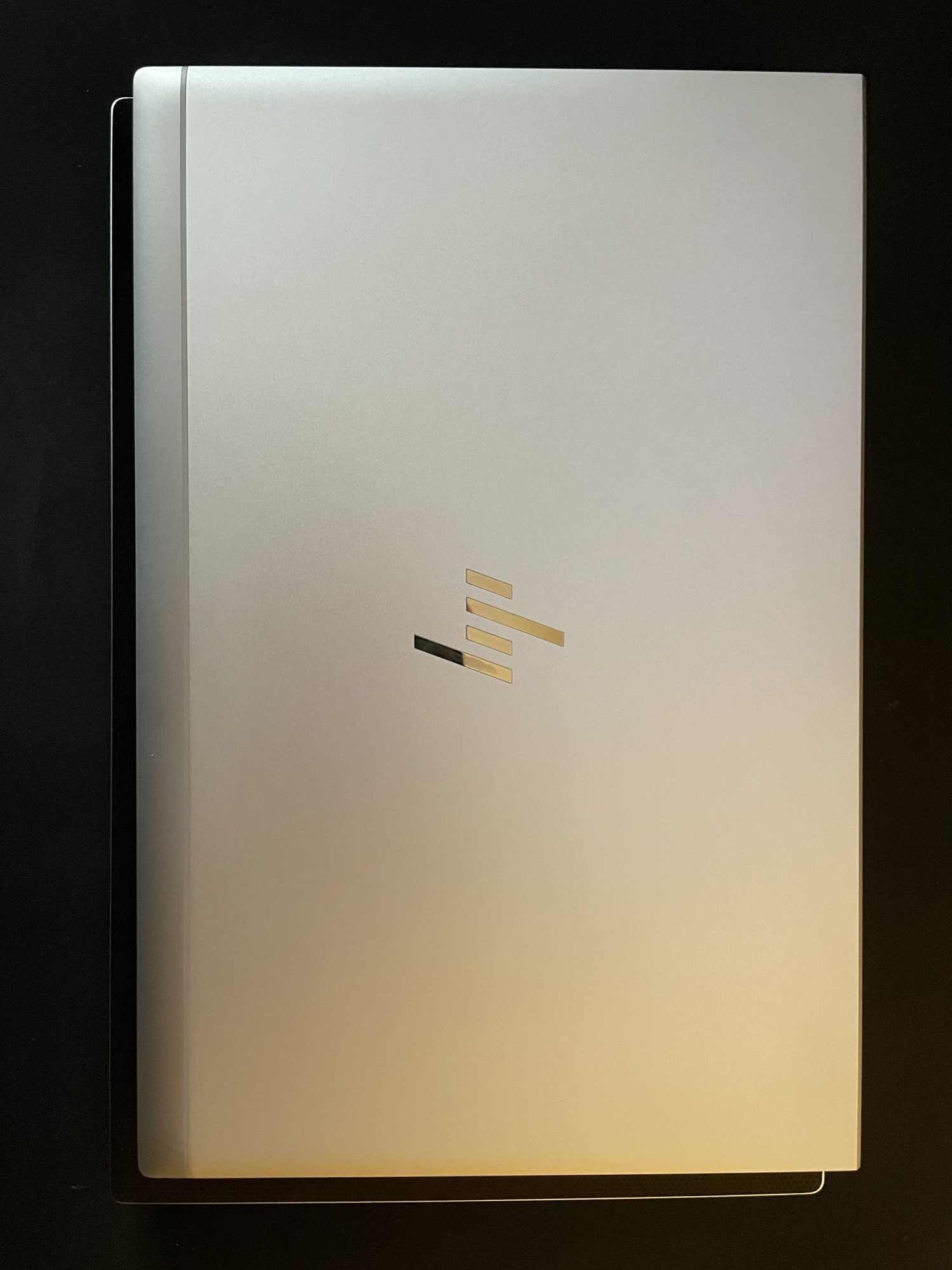 Connectivity and Network Options
There is still no Thunderbolt (or USB 4) for this generation of AMD devices, but HP did their best to work around this issue. Offering two USB-A and two USB-C ports. Both of the USB-C ports offer the newest DisplayPort (1.4) Alt mode and power delivery. The integrated AMD Vega GPU can handle up to three external displays.
The included 65 watt power adapter charges the notebook over USB-C, so one of the ports is already preoccupied. To work around that I am using the HP G5 USB-C dock, which offers 4x times USB, Ethernet, 2x DisplayPort and also charges the notebook.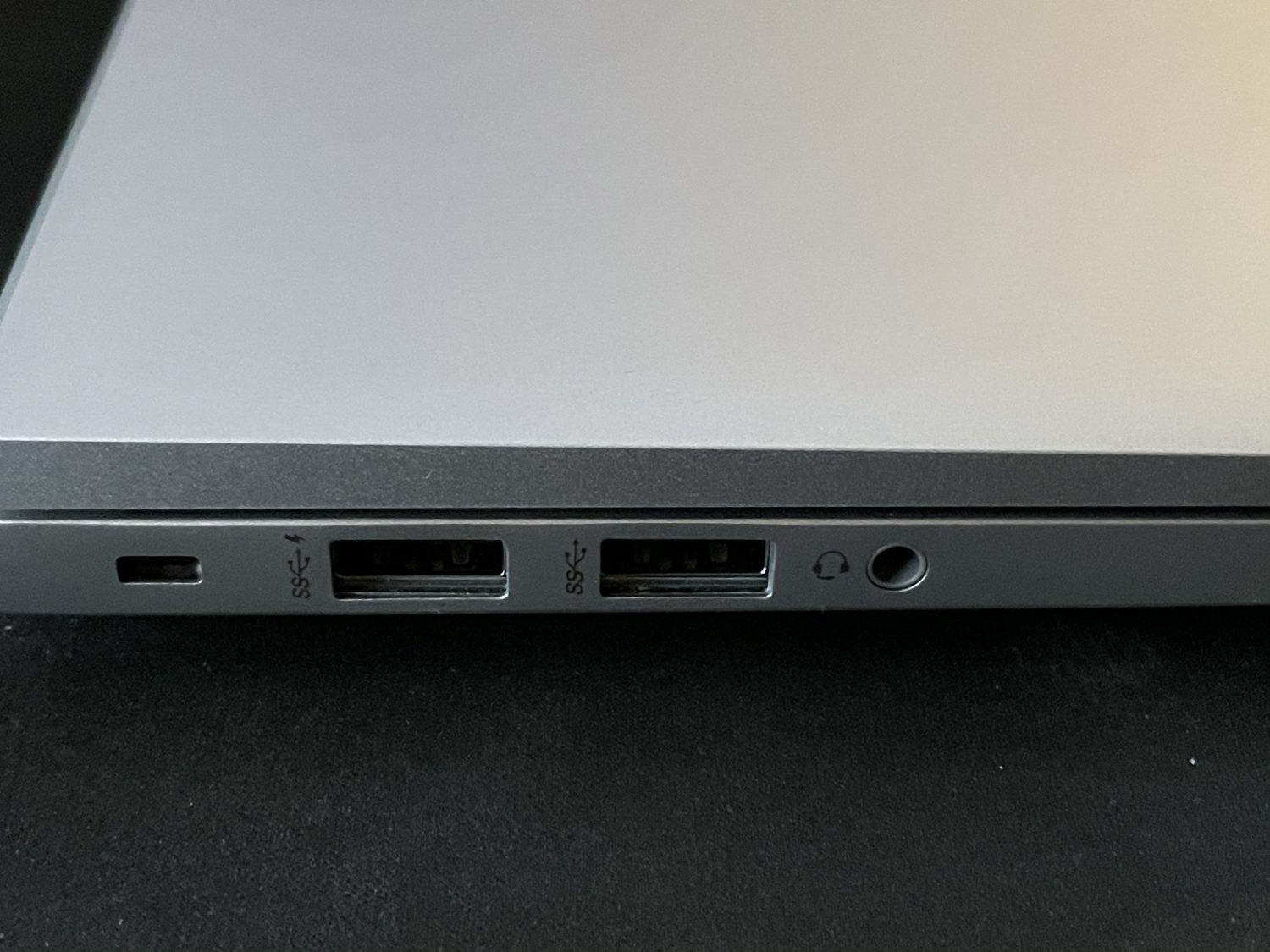 Left side: Kensington Lock, 2 USB 3.0, Audio combo port, Smartcard Reader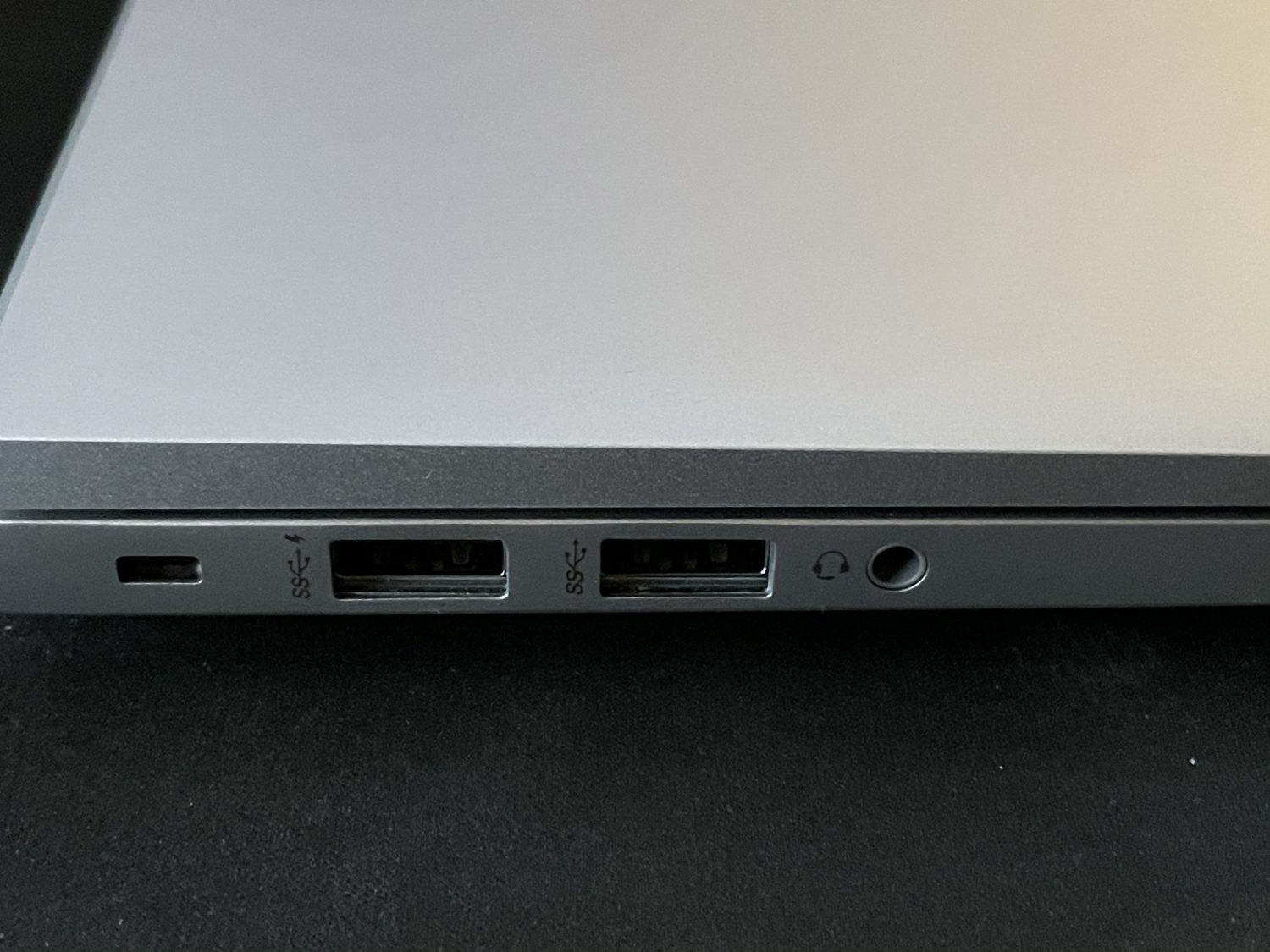 Right side: SIM slot, 2x USB-C with DisplayPort 1.4, HDMI 2.0, power delivery (not used!)
The 845 G7 comes without a dedicated ethernet port, which is sadly getting more common even in the "pro" market. For wireless connections it offers an Intel AX 200 wifi card, which hasn't shown any issues so far (if you are interested I can do some tcperf benchmarks).
Additionally it brings an integrated Fibocom L850-GL LTE modem (branded as Intel Corporation XMM7360). The SIM slot on the right can be easily opened by pushing it, no additional tools needed. Linux compatibility is a bit rough, but I managed to get it detected after playing around with the mode switch.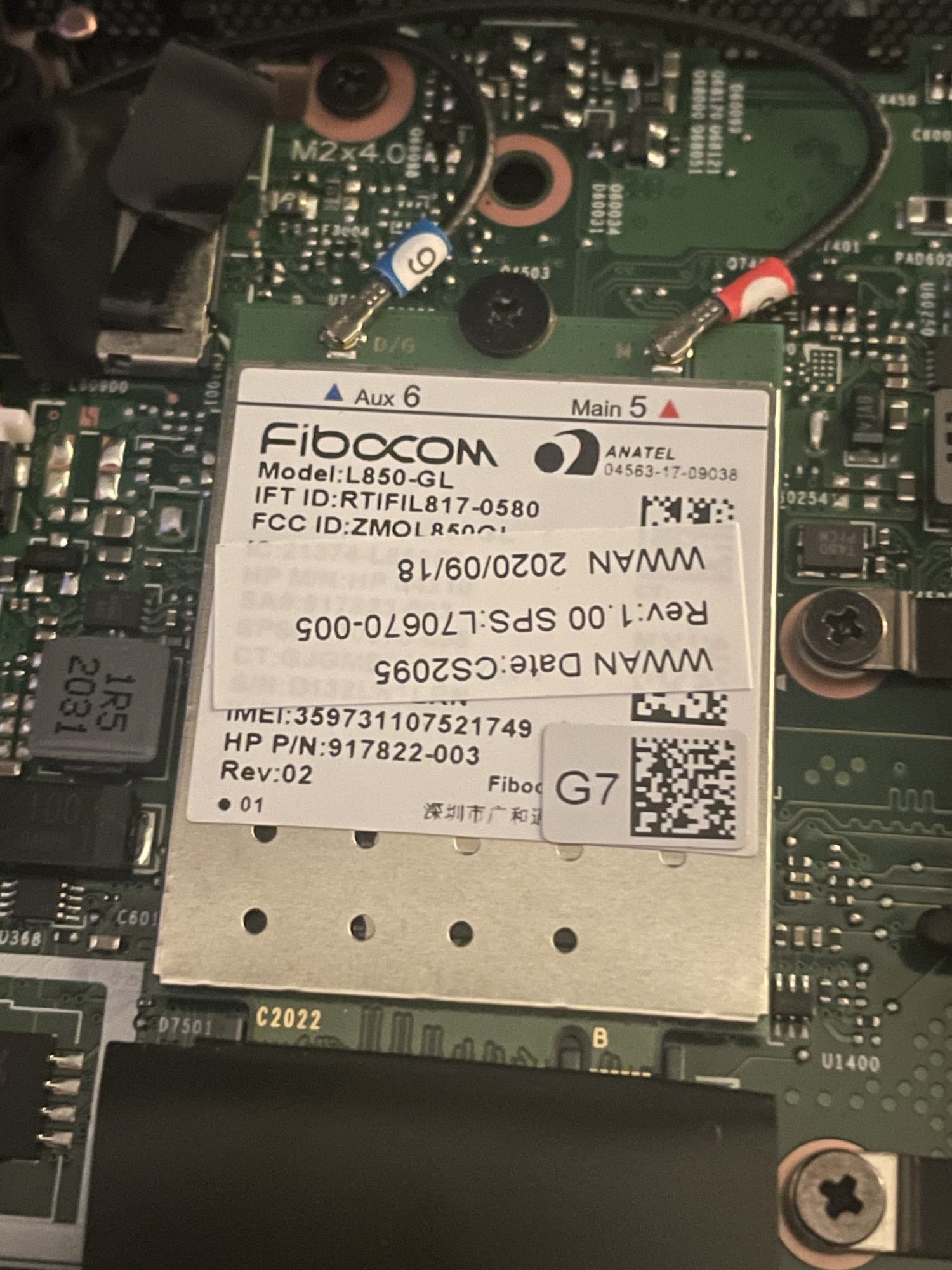 Keyboard
The keyboard on the 845 G7 is for me on a par with modern ThinkPad keyboards, which is quite something. It offers great feedback and clear pressure points, making it a breeze for typing. The layout is more or less default with small arrow keys. (Get used to hjkl!).
You get dedicated keys for delete, page up, page down, pos1 and end on the right. The power key is integrated into the upper row of function keys, which may cause issues if you want to hit the delete key.
Touchpad and Trackpoint
The Touchpad brings two physical buttons on the top, primarily for the integrated Trackpoint. It's has a nice gliding surface and does well also with multi-finger gestures. In my opinion it could be a bit larger, but the accuracy is very good and it's suitable for daily usage. Compared with Lenovo's solution the Trackpoint is on par, but it has a different shape which takes some time getting used to.
Display
My version is coming with HP Sure View 14" display, which is offering up to 1000 Nits and screen protection. The display manufacturer seems to be IVO, but that's almost everything you can find out by looking into the EDID data (IVO Model 8c78). Overall without any measurements the display is doing fine. Black levels and contrast are great and it's high brightness makes it perfect for outside usage.
Even with HP Sure View turned off the viewing angles are far from perfect, colors are getting washed out quickly when you look at the display from a different angle.
CPU performance
The EliteBook 845 G7 comes with multiple AMD CPU options (there are also Intel based models). On the low end you can choose a 6 core Amd Ryzen 4650U or you can go with the 8 core Ryzen 4750U. Generally speaking the performance difference shouldn't be that huge between these two, roughly around 15% to 20% depending on the benchmark.
Compared with the Ryzen 4800H, the Ryzen 4750U (notice the U) comes with a lower power limit (TDP).
Cinebench R20: 3236
GeekBench 5 (Windows) Single-Core: 1115
GeekBench 5 (Windows) Multi-Core: 5485
Kraken Benchmark: 881.9ms (Linux Chromium 87.0.4280.47)
GCC compile time (Linux - gcc-10.2.0-r3 - pgo): 1 hour, 34 minutes and 12 seconds.
System Noise
During low load the fans remain completely silent. But even with medium or heavy load the fans keep very quiet, making it an excellent choice for low noise environments. After some heavy load it takes only seconds until the fans are silent again.
Temperature
In idle CPU temperatures are around 50° Celsius. During load the CPU quickly reaches its limit at around 90°, dropping fast ones the fans kick in. HP clearly favored a silent noise profile over cooling early for the Ryzen 4750U. Even during heavy loads the chassis keeps cold, with only some warmer (not hot) spots around the top of the keyboard.
Storage
As I replaced the m.2 NVME SSD I haven't done any benchmarks with it. It came with an SK Hynix one.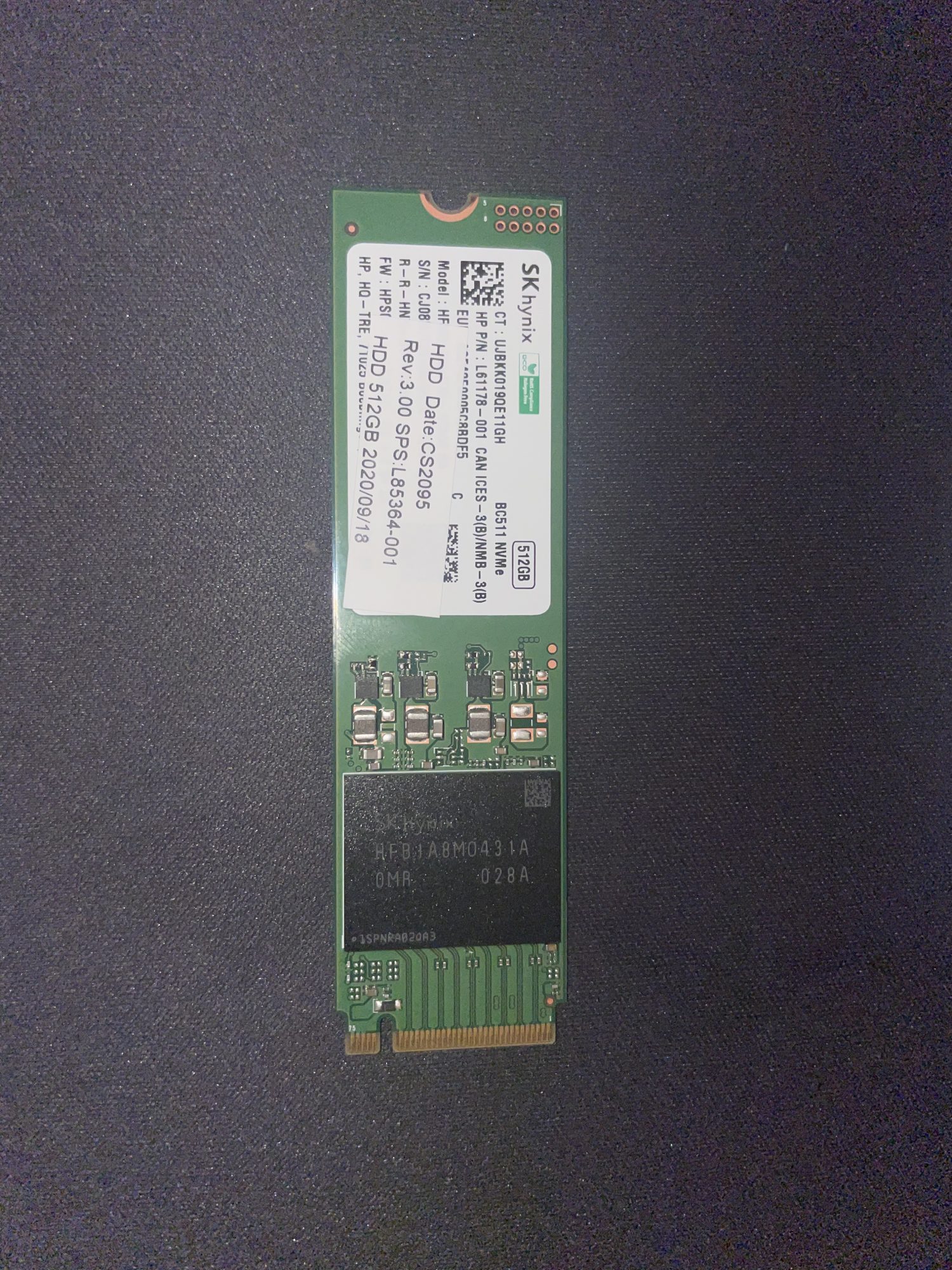 Maintenance
Maintenance for the EliteBook is great. You just remove six philips screws and after that you can easily access all the replaceable parts. In fact almost all parts are replaceable, which is a big plus over most of the competition.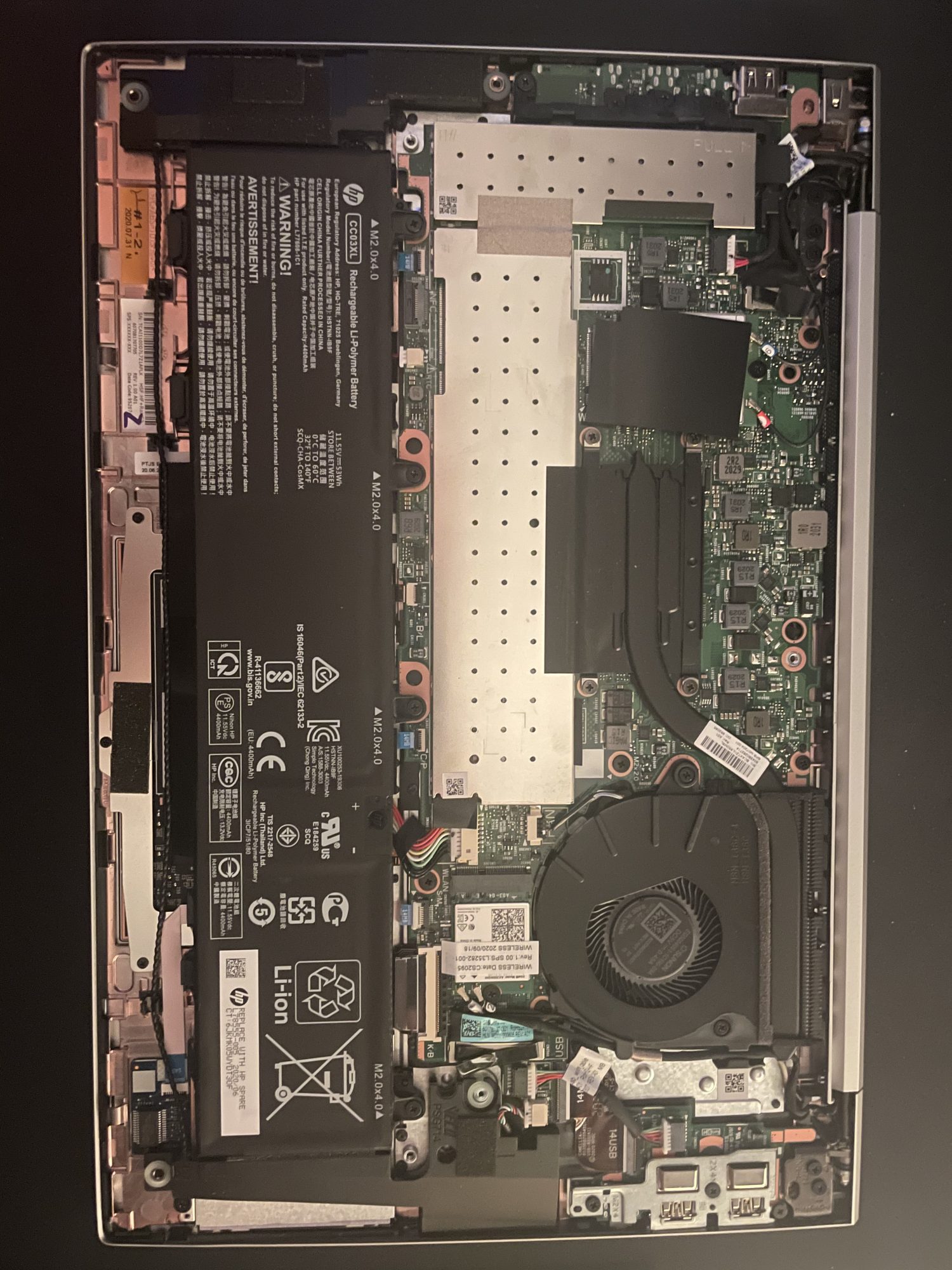 You can populate two memory slots, one pre occupied by an 16 GB SO-DIMM module (DDR-4 3200).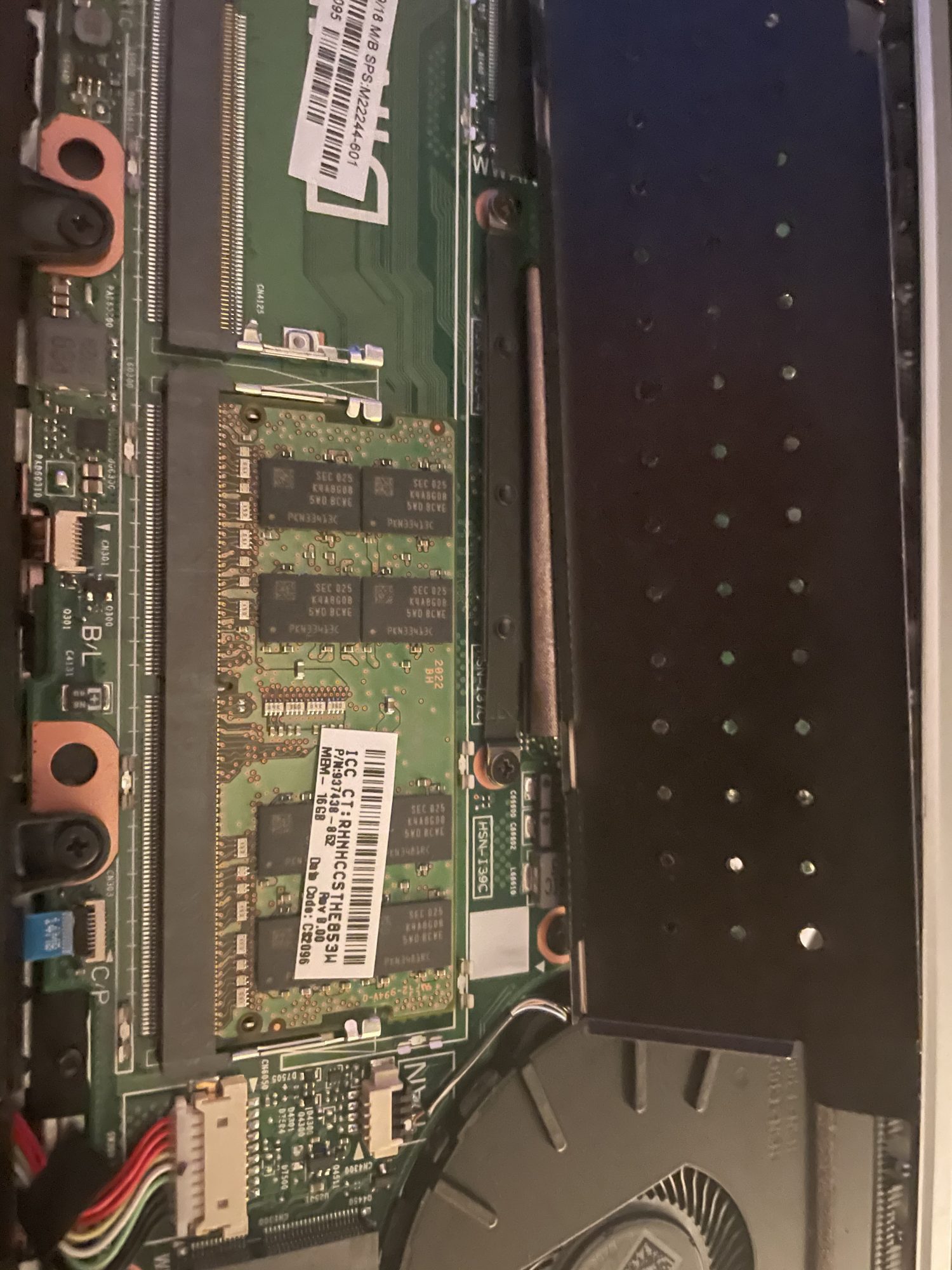 The memory and the nvme are protected with a metal cover, kept in place by some tiny brackets on the board (really awesome engineering solution). You can also easily replace the UMTS mode, the WIFI card and also the battery.
Linux Compatibility
No issues so far with Linux Kernel >= 5.9. (Going to add a separate blog article for it).
Verdict - Finally some highend AMD competitors
The good
Great performance
Awesome maintenance options
Great battery runtime
Connectivity Options
Only 1.4 kg
Integrated LTE modem
The bad
No Thunderbolt 3
Viewing angles